得獎連結(Award link)
2022 Taipei Women in Tech Honorees
得獎過程(Award process)
我在2021年由於主持了幾場Women Who Code的活動,並成為主講者分享了幾個技術活動,受Women Who Code的邀請成為了WWC Taipei的核心志工成員。
因為我在社群的活躍和表現獲到了肯定,他們便推薦我參加科技女性榮譽榜的選拔,其實在選拔過程中並沒有甚麼特別的感受,但是在慶祝活動當中,有很深的感受到這個活動的意義。因為其實現場真的有很多其他很優秀的女生,而且女性科技人相對男性的科技社群,比較不會滿嘴科技能力的比較感(誰技術強、誰知道最多新技術),而是更重視彼此(你是誰、你對甚麼有興趣、你對你有興趣的事情的想法),這也是我第一次愛上WWC這樣的女性科技社群。
我成為工程師已經超過15年,其實女性在科技業的辛苦,並不在於真正的具體地歧視,而是在於【你與大多數的人都不一樣】。因為男女的觀點不同、看事情、想事情的方式不同,怎樣看待重要事情的優先順序也會不同。所以女性真正的職涯困境,並不是來自於刻板印象,而是來自於我與大多數的同事都不一樣(因為我是純研發工程師,真的環境大多都是男的)。
這會影響到女性很難和同事有較好的私下交情,比較難和同事擁有一起打拼的同伴感,也會影響到私下的資訊交流。同時,男性在意的點和女性也不一樣,我就很不擅長瘋狂的一直講技術,表達自己技術上的超然,但是事實上我所做的專案的技術難度完全不亞於男性開發者,甚至對於一些複雜程式的思考領域上,我是勝過許多男性同事的(我周遭的而已啦不代表所有狀況)。
所以來到這個純女性科技社群真的很開心,也好像找到同好,也發現,原來這麼多女生都會有所謂的【冒牌者症候群】。我們只是不夠清楚自己的好,而不是真正不夠好,因為這邊的大家是如此的勇敢而出色。
In 2021, I became a core volunteer member of WWC Taipei after hosting several Women Who Code events and sharing some technical talks as a speaker. Because of my active participation and performance in the community, they recommended me for the selection of the Women in Tech Honor Roll. In fact, I didn't feel anything special during the selection process, but I deeply felt the significance of the event during the celebration. There were many other excellent women present, and unlike the male-dominated tech community, women in tech place more emphasis on each other as individuals, their interests, and their ideas, rather than on who has the most technical skills or knowledge of the latest technologies. This is why I fell in love with the female tech community like WWC for the first time.
As a woman who has been an engineer for over 15 years, the difficulty of women in the tech industry is not really about concrete discrimination, but rather that "you are different from most people." Because men and women have different perspectives, ways of looking at and thinking about things, and different priorities for important matters. Therefore, the real career dilemma for women does not come from stereotypes, but from the fact that I am different from most of my colleagues (because I am a pure R&D engineer, and most of my colleagues are men).
This can affect women's ability to have good personal relationships with colleagues, make it harder to feel like they have a comrade-in-arms while working together, and also impact private information exchange. In addition, men and women may have different points of interest and priorities, and I am not particularly skilled at constantly discussing technical topics or expressing my superiority in technical expertise. However, in reality, the technical difficulty of the projects I work on is no less than that of male developers, and in some areas of complex programming thought, I outperform many male colleagues (at least those around me, not representative of all situations).
So I am really happy to be part of this all-female tech community. I feel like I have found like-minded individuals, and I have also discovered that many women experience imposter syndrome. We just don't know our strengths well enough, and it's not because we are not good enough, but because everyone here is so brave and excellent.
得獎頁面截圖(Screenshot of the award page)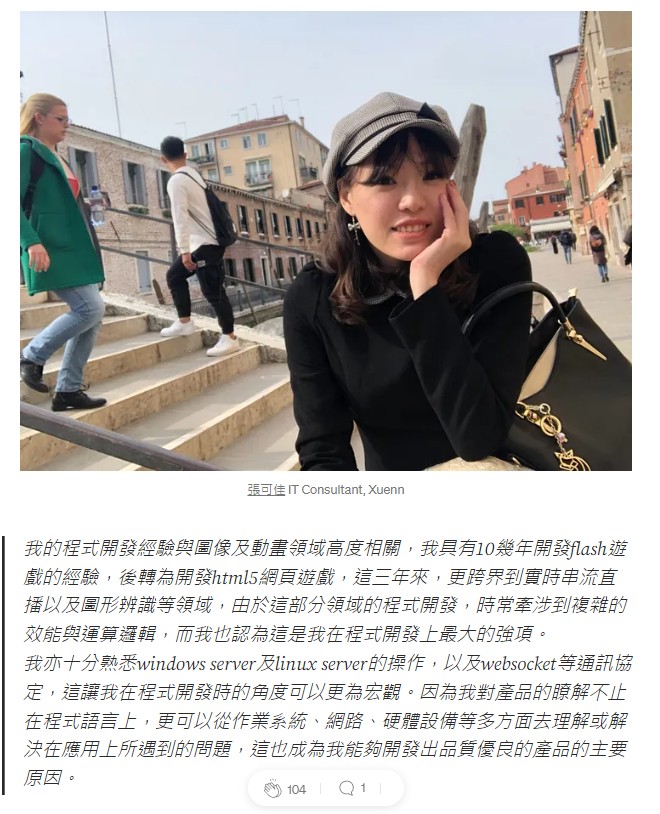 My experience in software development is highly related to the fields of graphics, animation, and gaming. I have over ten years of experience in developing Flash games and have since transitioned to developing HTML5 web games. In the last three years, I have also crossed over into real-time streaming, graphics recognition, and other related fields. These areas of software development often involve complex performance and computational logic, and I believe this is my biggest strength in software development.
I am also very familiar with operating Windows and Linux servers, as well as communication protocols such as WebSockets. This enables me to take a more comprehensive approach in software development. Because my understanding of products extends beyond programming languages, I can understand or solve problems encountered in applications from various aspects such as operating systems, networks, hardware devices, etc. This has become the main reason why I can develop high-quality products.
得獎慶祝活動(Award celebration event)